The Lucky Puppy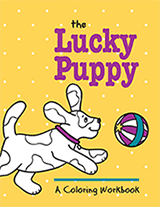 Coloring Book For 6- to 9-Year-Olds This 20-page coloring book was the first in the nation to describe the process and excitement of scientific research and to explore the role of animals in this process. It tells the story of a brother and sister who take their sick puppy to a veterinarian. The veterinarian explains to the children how research enables him to choose the correct medicine to make the puppy well. The Lucky Puppy includes activities and puzzles related to the storyline and is suitable for classroom or home use.
Individual Copies: $3.00 Carton (125 copies): $215.00
What's the Point of Bioscience Research?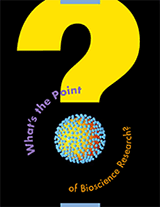 Comic Book For Middle School Students This 20-page comic book speaks directly to adolescents about the relevance and importance of bioscience research and product testing to their lives. Previously known as What's the Point of Biomedical Research?, the comic book tells a story of teens who come to understand — through injury or illness — the significance of scientific research.
Individual Copies: $6.00 Carton (50 copies): $200.00