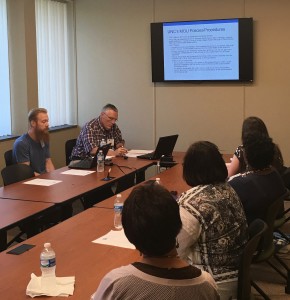 In 2015, NCABR began an ongoing series of periodic member meetings, called Member Conversations, which address timely topics of interest for the membership. Member Conversations are held as-need and upon request from the membership, either in-person in small group settings or they can be held virtually.
Member Conversations* have addressed topics, including:
Controlled Substances
Memoranda of Understanding (MOUs) and Inter-Institutional Assurances (IIAs)
Reducing Regulatory Burden for IACUCs
Security Issues and Risks at North Carolina Animal Research Facilities
Impact of COVID-19 on North Carolina's Lab Animal Research Community
Logistics of Planning and Hosting an AAALAC Site Visit During the Pandemic
*Must be an employee of an NCABR member organization to attend.